About Wysocki Chiropractic
Early in his career, Dr. Glenn Wysocki spent two years in Madison, Wisconsin, working for a large group practice and managing one of the clinics. He then came to Kenosha where he opened his current practice and has been serving patients for 40 years.

Our Practice Philosophy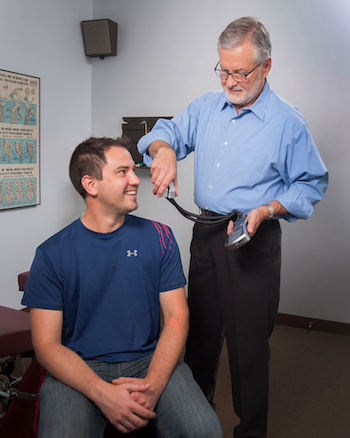 Dr. Wysocki's mission is to provide the Kenosha community with the best chiropractic care possible. With over 40 years experience in chiropractic, he has seen just about everything. His commitment to ongoing education ensures that he'll be well-equipped to help you find the relief you need.
Our approach is hands-on, using traditional chiropractic techniques whenever possible. If needed, or if a patient prefers, Dr. Wysocki can also use low-force instrument adjusting. Adjunct therapies such as laser, ultrasound or interferential current are also available to complement your chiropractic care.
Nutritional counseling and supplements round out our service offerings and help patients achieve better overall wellness.
The Evolution of Chiropractic
Millions of patients have seen chiropractors over the years, and have experienced the powerful results that today we've come to associate with this type of natural health care. The chiropractic profession is growing by leaps and bounds.
Today, the public understands what chiropractors have understood all along – chiropractic is a safe, effective way to improve patient health without the use of drugs or surgery.
Numerous scientific studies have proven chiropractic to be a both time- and cost-effective treatment, without side effects.
For Dr. Wysocki, Chiropractor Kenosha, perhaps the most fulfilling part of his work is helping patients like you change your life for the better. With unparalleled education and experience, he is well-positioned to help you find relief and improve your overall well-being. Discover for yourself the healing power of chiropractic. Contact our office today to find out how!
---
About Wysocki Chiropractic | Chiropractor Kenosha | (262) 652-3100